26 January 2012 | à 23h34
Erding: "in the best place"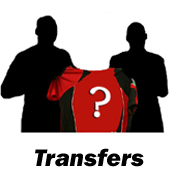 After he nearly joined Rennes last August, Mevlüt Erding has finally dropped his suitcases in Brittany. The 24 years old French-Turkish striker signed a three and a half year contract which ties him to Stade Rennais until 2015.
Although his willingness to join the Rouge et Noir has been in doubt for long months, Erding assures that his arrival in Rennes is « a relief » after his aborted transfer last summer and several months on the bench in the capital. "I had not future anymore in Paris, it was becoming very annoying", the striker commented.
In Rennes, he joins the club « which wanted [him] the most and was the most adapted to [him] sportively », rather than opting for another solution, possibly abroad, which would have been financially more interesting. "If a player wants to bounce back and is only thinking about money, he doesn't come to Rennes", underlines Erding, who thinks he is "in the best place to get [himself] back on track".
A return on the rails which will happen under the management of Frédéric Antonetti, who has always wanted to have Erding in his team, praising the player constantly since three years. "The coach truly wanted me, I think I will take a lot of pleasure working with him since we have the same vision of football", the former Sochaux player rejoiced.
Sources : Le Mensuel de Rennes, L'Équipe