30 January 2012 | à 23h49
Transfers: Mandjeck will join Auxerre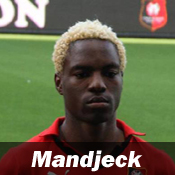 Lacking playing time since a month, and his altercation with Frédéric Antonetti, Georges Mandjeck will sign a four-year contract with AJ Auxerre. Information confirmed by the Auxerre president Gérard Bourgoin in a press conference.
Arrived in Rennes in July 2010 from Stuttgart, Mandjeck never managed to find his place as a defensive midfielder, in the shadow of Yann M'Vila. Last autumn, his repositioning as a central defender came as an unexpected development in his Rennes career.
A successful repositioning… until the infamous anger of Frédéric Antonetti against him during the last Rennes-Brest, on December 10th. Starting with the B team, five days later in Madrid, Mandjeck scored his first – and single – goal with Rennes. A goal celebrated without any joy, the Cameroonese only addressing an ambiguous sign (a "shut up" sign made with his hand), which no-one knows whether it was addressed to the Madrid public… or to his own coach,
Coincidence? Mandjeck would never play with the Rennes shirt again. First because of an injury, then because of the competition, with the return of Apam adding an obstacle to his playing time.
Yesaterday, Pierre Dréossi had announced that the Cameroon international was on a verge of departing because of a lack of playing time. This Monday, earlier in the day, the Rennes general managed had confirmed to the 10 Sport that contact had been made with Kaiserslautern, Mandjeck's former club. However, and except for a last minute U-turn, the player should continue his career in Ligue 1.