26 March 2012 | à 20h44
All hopes now with the Cup...
Ligue 1, Valenciennes 1 - 0 Stade Rennais. Behind from the first minutes of the game after Danic score a penalty, Rennes never seemed able to come back in a game poor both in chances and technical quality. The Bretons see their hopes to clinch a European position through the league diminish rapidly.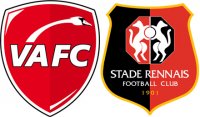 Games between Valenciennes and Rennes follow each other with a very different scenario. After an intense and exciting game on Wednesday in the Coupe de France, both teams offered a rather poor display this Saturday, both in terms of chances and technical ability. The two sides only created minor opportunities, and the first one was for Valenciennes. After a shaky intervention by Costil who hit Aboubakar, the latter crossed in front of the empty goal but the ball was cleared away by the Rennes defence (3'). Rennes reacted with a header from Erding, who obtained a corner in which he managed to chip the ball, but the ball flew over Penneteau's crossbar (7').
No chances
Then, as Rennes played with 10 men while Boye received treatment on the touchline, Aboubakar was fouled by Kana-Biyik in the Rennes penalty area. Mr Buquet pointed at the penalty spot, and Danic converted the kick by sending Costil the wrong way (1-0, 13'). There would not be much more to report. As opposed to their Coupe de France match, the Rennais showed a clear lack of fighting spirit. Antonetti's men seemed to take the upper hand in the game after twenty minutes, but without any clear chances. A good ball by Féret cleared by a Valenciennes player (28'), a scuffed shot by Pitroipa (31'), a header of Doumbia from a corner stopped by a defender (34') and a free-kick by Kembo rolling wide (40') were the only half-opportunities for the "Rouge et Noir".
On the other side, the Northerners weren't much more inspired. They could have profited of a bad clearance by Kana-Biyik, directly on Aboubakar at the centre of the field, but the Valenciennes striker sent his shot directly on the French-Cameroonese (43'). Fortunately, since Costil was masked on the action…
Rennes never likely to equalise
The second half would not be much more brilliant. Rennes dominated the play but showed unable to give a real answer. Despite attempts by Féret (volleying wide, 56'), Erding (shooting from an impossible angle, 67'), Théophile-Catherine (wide, 71'), Hadji (too much angle, 76') and Pitroipa (over the bar, 85'), Stade Rennes never seemed likely to equalise, displaying all the poverty of its attacking play instead.
«The league shows the value of a team », affirmed Frédéric Antonetti to Orange Sport before the game. The Rennes manager, from his bench, must have appreciated the true "value" of his players' performance this Saturday. Now nine points away from the third position and having scored only one point in the last three games, Rennes – except for a serious change of fortunes in the league – will only have the Cup to look forward to in order to save their season.
Match Facts
VALENCIENNES FC 1 - 0 STADE RENNAIS FC (half-time : 1-0)
Ligue 1, Game Week 29
Saturday, March 24th 2012, 21:00
Stade du Hainaut
Attendance : 12 135 spectators
Referee : Ruddy Buquet
Goals : Danic (13e, pen.) for Valenciennes.
Yellow Cards : Doumbia (63') for Rennes. Gil (67'), Danic (79') for Valenciennes.
Stade Rennais FC : Costil - Danzé, Kana-Biyik, Boye, Théophile-Catherine - M'Vila, Doumbia (Tettey, 76'), Féret - Kembo (Boukari, 46'), Erding (Hadji, 76'), Pitroipa.
Manager : Frédéric Antonetti.
Valenciennes FC : Penneteau - Mater (Traoré, 26'), Gil, Angoua, Ducourtioux (cap) - Gomis, Cohade, Camara (Saez, 85') - Dossevi (Samassa, 89'), Aboubakar, Danic.
Manager : Daniel Sanchez.