12 March 2012 | à 20h49
Rennes lose points at home, once again
Ligue 1, Stade Rennais 1 - 1 Auxerre. Having gone behind early in the match, in spite of their domination, Rennes played catch-up for most of the match. They couldn't get better than a draw, despite having a lot of chances.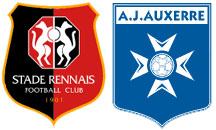 Right from kick-off, Rennes got their foot on the ball and created a dangerous opportunity for Erding, just not close enough to pick up Kembo's cross in the 8th minute. However, against the run of play it was Auxerre that opened the score in the 10th minute. Following losing the ball in midfield, Oliech got the ball from Traoré, and took advantage of Boye's absence to wrong-foot Costil. Rennes weren't going to give up easily, despite the early hammer blow. In the next minute, Kembo crossed to the penalty spot for Erding, unfortunately his shot was off-target. Then in the 15th minute it was Pitropia's turn to try a foray into the Auxerre box, where Burkinabe was pulled down by Hengbert before being tackled. If this was true then the Rennes forward was fouled by the defender...Referee Fautrel didn't budge, no penalty.
Stade Rennais dominating outrageously
Rennes really dominated against a very realistic Auxerre team. The Bretons can count on Pitroipa and Kembo to bring danger to the outposts. Twice, Kembo tested Sorin (18', 23'), then his blind cross to Erding that was cleared by Hengbart, wasn't any more successful (23'). Then Rennes went off the boil a bit. A chance for Oliech to try again, but this time, Boye was on hand to block the resulting shot from the Kenyan. However, the "Rouge et Noir" continued to put pressure on the Auxerre goal, but Laurent Fournier's men resisted well, and profited from Rennes' knack of getting caught offside. Erding, who scored the equaliser, opened up the play (40'), followed by Boye, who was miles offside when he deflected a shot from the Turkish striker into the back of the Auxerre goal (41'). Then in first half stoppage time, Boye, made Sorin save the ball on the line from a Kembo free kick on the edge of the box, but the Ghanaian defender was offside again (45'+4).
Stade Rennais, having tried everything, still went into half time behind. They began the second half as they finished the first. From the restart, Pitroipa hit the post (46'). The Bretons are a bit disjointed and tend to rush, for example, striker Burkinabé, ideally placed after a deflection by Erding, miscontrolled when he would have been one-on-one with the keeper (51'). Rennes virtually equalised for the third time when a Pajot shot blocked by Sorin fell at Erding's feet, he found the net.....offside (52')! Desperation! Nearly doubly so after Traoré nearly put Auxerre 2-0 ahead after a counter-attack (53').
Missed Opportunities
Missed opportunities continued for Rennes. Pitroipa headed over after another cross from Kembo (60'), then Erding scuffed his overhead-shot inside the area (61'). The solution came from Brahimi, having just come on as a sub. Fed by Pitroipa, he wasn't closed down and profited from a rare pause from the Auxerre defence to beat Sorin with a shot from 25m (1-1, 66').Rennes had done half the job, and continued to press for victory. They nearly had it all to do again when Oliech beat Boye for pace in the box and was clumsily tackled by the Ghanaian (75'). Referee Fautrel however, didn't give a penalty and Rennes avoided the Auxerre hold-up.
At the end of the game, the few Breton opportunities from free kicks or through Erding didn't matter. Rennes had missed their chance, once more the Red and Blacks had missed too many chances to hope to win and also let go the opportunity to get within one point of Lille in third. Another poor performance against Toulouse, who are level on points, next weekend will damage their run for a European place.
Match Reports
STADE RENNAIS FC 1 - 1 AJ AUXERRE (half-time : 0-1)
Ligue 1, Game Week 27
Sunday, March 11th, 2012, 17:00
Stade de la Route de Lorient
Attendance : 22 886 spectators
Referee: Fredy Fautrel
Goals: Brahimi (66') for Rennes. Oliech (10') for Auxerre.
Yellow Cards: Kana-Biyik (84') for Rennes. Mandjeck (17'), Cissé (37'), Sidibé (45+2'), Traoré (58'), Oliech (84'), Sahar (90+4') for Auxerre.
Stade Rennais FC : Costil - Danzé, Kana-Biyik, Boye, Théophile-Catherine - M'Vila, Pajot (Doumbia, 84'), Féret (Brahimi, 55') - Kembo (Montaño, 65'), Erding, Pitroipa.
Manager: Frédéric Antonetti.
AJ Auxerre : Sorin - Hengbart, Boly, Grichting, Dudka - Segbefia, Mandjeck, Cissé, Sidibé (Contout, 64') - Traoré, Oliech (Sahar, 86').
Entraîneur : Laurent Fournier.