25 January 2012 | à 00h00
Former Players: N'Siabamfumu on trial in Nantes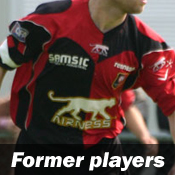 He was one of these great prospects Stade Rennais lost on the way, Olivier N'Siambamfumu could have hoped for a different career, had it received wiser advice.
A year before he left his training club in 2006, N'Siabamfumu, then labelled "the new Lilian Thuram", had won the U19 Euro with France, alongside Yoann Gourcuff and Moussa Sow. Stade Rennais wasn't against offering him a professional contract, but the negotiations between the club and the player's representatives hit a stumbling block for financial reasons, the club judging the player's demands too important.
The next years would be hard for the player. Short spells in small European clubs such as Ascoli, l'AEK Athens, Crotone, Carrarese, Colmar, Strömmem. In the next few days, the career of N'Siabamfumu could know a new beginning, if his trial in Nantes was converted. Tested by Landry Chauvin, a manager he has known in Rennes in the past, the centre-back (who can also play as a right back) could come to bolster the Nantes defensive line.
Talking to newspaper Ouest-France, Chauvin indicated that his former player had "lost none" of his qualities, without giving any hint about his intentions at the moment.