English version
Stade Rennais Online, the Supporters' site about the Stade Rennais Football Club! All news and information on the Club, Transfers, Articles and News, forums, Blog, Results, Standings, Squad and players profiles, Supporters...
Derniers articles de la rubrique
17 July 2002
A Moroccan international Abdeslam Ouaddou struggled to prove he had the ability to be in charge of Rennes' defence. The target of many criticisms during his stay in Rennes, particularly because of his many defensive blunders, he was left on the bench by the combination of an injury and the emergence of Mensah and Bourillon's partnership. At the end of his contract, he eventually decided to sign in Greece, for Oympiakos Piraeus, before coming to Ligue 1 soon, signing in Valenciennes.
17 July 2002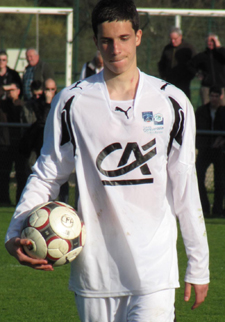 Trained as a defensive midfielder, Pajot is characterised, on the pitch, by high work rate and disconcerting maturity for a player of his age. A member of the 1990 generation and a 2008 Gambardella Cup winner, Pajot went on to become one of the base-men in Laurent Huard's Reserve team, even receiving the captain's armband for the 2009-2010 season. At the term of his intern contract, he signed his first professional deal for a year, with an option for another two years. Eager to toughen up at professional level, he was loaned to Boulogne-sur-Mer for the 2010-season.
17 July 1999
Since 1901, the Stade Rennais has known several grounds to finally settle down on the Route de Lorient, where the team plays since... 1912.
0 | ... | 600 | 610 | 620 | 630 | 640 | 650 | 660 | 670 | 680 | 690