31 January 2011 | à 20h50
Antonetti : "The highest level doesn't leave room for negligence"
In Sochaux, the Stade Rennes youngsters weren't able, according to Frédéric Antonetti, to "bear with the status" of a team third in Ligue 1. Before hosting Reims in the Cup this Tuesday, the manager made his point clear.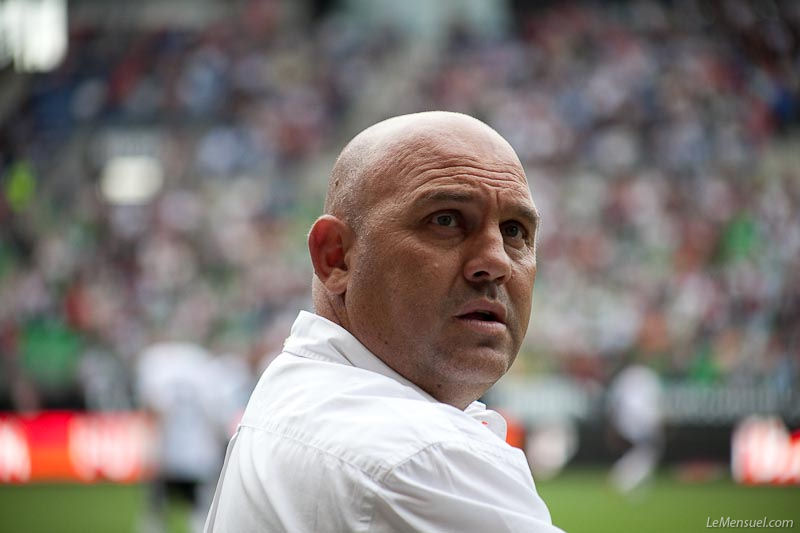 "Everyone calls this game a match to forget. Personally, I think we should not forget it, so it doesn't happen again." Frédéric Antonetti doesn't want to turn the page after the rout in Sochaux (5-1). He analysed Saturday's "big slap" with his players, in Razak Boukari's own words.
His diagnosis: « We were not ready to fight in the first thirty minutes, notably in term of conquest. » His young team did not manage to "live up to the status" of a team third in Ligue 1 against a "fired up" Sochaux team. "I've coached a few average teams, the manager continues, when we came across the third in the league, we were highly energised and motivated. If the team facing us did not show the same motivation, we would win the match."
A call to collective and personal order
"We must now focus on our main strength, which is ball recovery and not the defence. If we consider the use of the ball before its conquest, we are in difficulty. This is our way of playing, our style that will lead us to victory", Frédéric Antonetti continues.
What happened in Sochaux is also the occasion for individual adjustments. After three convincing victories in January, the young Bretons have probably forgotten the basics. Antonetti's call to order is addressed to individual as much as to the team: "The highest level doesn't allow leave room for negligence. Success doesn't happen by itself. You need to go and get it, else anyone could be champion. To become a champion, it takes mental strengths way above average."
Lemoine : « Show what we can do »
An even more urgent message to spread, as the team will have to spend three weeks without experienced Stéphane Dalmat and Kader Mangane, both out with thigh injuries.
On Tuesday evening, the Rouge et Noir will be hosts to Stade Reims in the Coupe de France's Round of 16. Seventeenth in Ligue 2, the opposition seems one that Rennes is expected to bet. The Coupe de France remains "a magical stuff" for Fabien Lemoine. Tipped to start at midfield, he sums up the state of mind shown by the players: "We can't fail, or everyone will hit at us and it will be normal. We are at home, we have to show what we are capable of after the defeat in Sochaux."
Nicolas Auffray - Le Mensuel de Rennes
Photo : www.rennes.lemensuel.com