2 February 2011 | à 19h55
Another spurned opportunity for Rennes
Coupe de France, Stade Rennais 3 - 4 Reims. At the end of an incredible match, Rennes comes out of the Coupe de France - just as last year – at the round of 16, against a club from a lower division. Trailing 1-3, pulling back to 3-3, Antonetti's men then managed to miss two penalties before conceding a fourth goal that would seal their elimination. If the defeat in Sochaux last Saturday (5-1) had left marks, this new disillusion against Reims might well leave serious mental scars in the squad.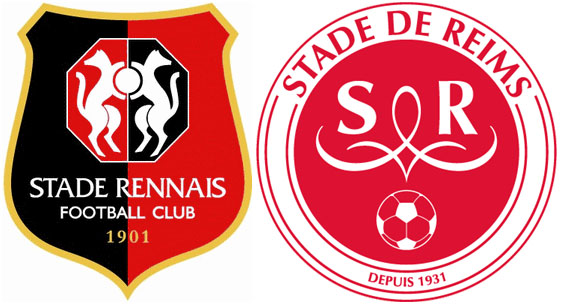 Already knocked-out of a national cup by Reims in 2006, Rennes was warned. Even though, the "Rouge et Noir" were put on the back foot by Reims from the first half, losing the battle at midfield. Fournier's men were even rewarded with the first big chance in the game, around half an hour in the game, when Carrasso released a Reims shot in Courtet's feet. Fortunately, the Rennes goalkeeper was quick to return on his feet and deflected the ball for a corner-kick.
Tossed around, the "Rouge et Noir" were also facing a first blow when Kembo was first out with an ankle injury, after 16 minutes. An opportunity for the new recruit, John Verhoek, to play his first minutes with the team. Rennes struggled to go forward and to break Reims' defensive wall, preferring to play sideways but still managing to create a few chances. Through Tettey first (11'), very active and showing a lot of availability at midfield, then on a free-kick from Lemoine, who was offered his first start since his return from injury, which skimmed the right post of Agassa's goal (16'). Boukari also tried his luck (18').
Both teams were trying to play quickly, using counter-attacks, and gaps opened. The rhythm was picking up when, after 37 minutes, Rennes made the best of a defensive error from Reims to unlock the score-line. On a cross by Tettey, Tacalfred cleared the ball poorly, straight in Boukari's feet. The former RC Lens would not think twice and propelled the ball in Agassa's net (1-0).
Incredible scenario
It would take Reims two minutes to resign. After a good collective move made of short passes, Romain Amalfitano beat Carrasso with a lovely chipped ball (1-1, 39'). Rennes had it all to do.
The game would get crazy in the second half, and once again, it is the visitors who launched the party. Toudic was first (51') to bring the danger on Carrasso's goal. There would be no second try. On a Reims crossed poorly cleared by Rennes' defence, Amalfitano beat Carrasso with a low shot (1-2, 54').
Rennes was pushing, but Reims held firm. On another mistake from Reims' defence, Montaño was well served by Verhoek and presented himself alone against Agassa, but his shot had too much angle (59'). The "Rouge et Noir" had spoiled a huge chance, and they would soon regret it. Six minutes later, Glombard escaped on the right flank and delivered a cross to Courtet, alone at the penalty spot, who hit a superb volley into Carrasso's net (1-3, 65').
The situation was looking dire for Stade Rennes. But in a few minutes, Jérôme Leroy, entered as a substitute after 60 minutes, reset the counters. At the 71st minute, the midfielder deflected a rather inoffensive shot by Kana-Biyik to send Agassa the wrong way (2-3). A whisker away from equalising in the following minute, Leroy finally managed his brace at the 78th minute with a well-chipped ball (3-3). Rennes was back from a desperate situation.
Rennes misses two penalties
The end of the game was breathtaking. At the 86th minute, Brahimi ran past Agassa before completely miscuing his shot. The ball went wide. A few minutes later, it was Reims' turn to create a big chance, but Toudic's long range shot came to hit Carrasso's cross bar. The improbable then happened. Rennes had recovered from a two goals disadvantage and was offered a chance to snatch victory when M. Thual blew his whistle for a penalty after a foul by Gamiette on Brahimi in the penalty area. The young Rennais tried to convert the spot-kick, but stumbled across Agassa (90+1')
The two teams then entered a 30 minutes extra-time, which would start the way the second half had ended. Tacalfred stopped the ball with his arm and the referee awarded a second penalty in only a few minutes (92'). Another penalty! This time it was taken by Jérôme Leroy. But the experienced midfielder failed to do better than his young team-mate Brahimi, and his shot was stopped by the incredible Agassa.
Rennes has missed two chances, Reims would not miss theirs. At the 95th minute, Thonnel recovered a ball at the entrance of Rennes' area, and beat Carrasso with a shot along the post (3-4). Stade Rennes had several more chances to equalise through Brahimi, who first hit Agassa's post (105') before losing his balance in the Reims penalty area (113'). The Bretons were pushing, but in vain.
After their elimination by the amateurs from Quevilly last year at the same stage of the competition, Rennes leaves the Coupe de France at the Round of 32 again, to the 17th of Ligue 2. More worrying, the "Rouge et Noir" have conceded 9 buts in just two matches. Not the ideal preparation before hosting Paris Saint Germain, a direct competitor in the race for Europe.
Match Facts
STADE RENNAIS FC 3 - 4 STADE DE REIMS (A.e.t) (half-time : 1-1 ; full time: 3-3)
Coupe de France, Round of 16
Tuesday, February 1st 2011, 20 h 45
Stade de la Route de Lorient
Attendance : 7 399 spectators
Referee : Olivier Thual
Goals : Boukari (37'), Leroy (71', 78') for Rennes ;
Amalfitano (39'), (Toudic, 54'), Courtet (64'), Thonnel (95') for Reims.
Yellow Card: Toudic (86') for Reims.
Stade Rennais FC : Carrasso - Danzé, Kana-Biyik, Théophile-Catherine, Souprayen - M'Vila, Lemoine (Leroy, 59'), Tettey - Boukari, Montaño, Kembo (Verhoek, 16', then Brahimi, 66').
Manager : Frédéric Antonetti.
Stade de Reims : Agassa - Tacalfred, Ichane, Fontaine, Glombard, Gamiette, Amalfitano (Thonnel, 88'), Deaux, Courtet (Weber, 80'), Toudic, Gamboa (Biancalani, 74').
Manager : Hubert Fournier.