2 March 2011 | à 00h54
Sébastien Sémeril : "We are experiencing the beginning of the Stade Rennais era"
Interview, part 1. Deputy of sports for the City of Rennes, Sébastien Séméril is an essential actor in the relationship between Stade Rennes and the Breton capital. In a long interview he accepted to give us, he looks at the club's current good performances and the club's management since several years, but also at François Pinault's work and achievements since arriving at the helm of the Stade Rennais.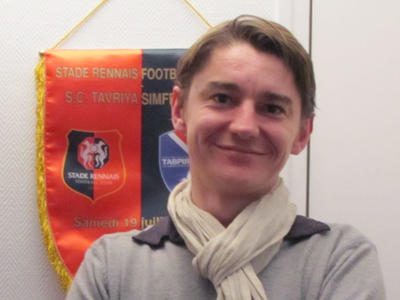 Aged 35, Sébastien Sémeril is the deputy of sport for the city of Rennes since 2008. A lifelong Stade Rennes supporter, he is a privileged witness of the relationship between the club and the city. In this first half of a long interview he agreed to give top Stade Rennais Online, he gives us an informed insight on Stade Rennes' current performances and the club's future. He also gives details on the relationships between the club and the City of Rennes, reminds the circumstances leading to the arrival of François Pinault at the head of the club, and makes an assessment of these fifteen years.
Sébastien, what do you think of Stade Rennes' current performances?
I could be wrong, but I believe we are experiencing, this year, the beginning of the « Stade Rennais era ». This year, we will finish in the first three or four. It is sure, it is written. An accident is impossible. When you see this team, its homogeneity… It really became obvious to all lovers of this club since four months.
When you see Boye playing average games in the CFA and reaching a superb level in Ligue 1, it makes you feel like something has changed.
I can't imagine an accident. Especially, since the other teams are involved in other competitions, and if they fail there they might be entering a negative spiral. In Rennes, there is this carefreeness, and respect of the staff too.
I tell you : this year is no accident, and it isn't because the other teams are not as good. Rennes plays very well. Antonetti is a very good coach, and I think the end of the season will be in phase with the first twenty-five match days.
To finish first will be difficult. Lille will be hard to leave behind. My wish is that we qualify for the Champions League next season. But this might only be the complex of a Rennes supporter.
And yet, All of the comments aren't exactly encouraging…
I think people are very harsh towards this team. Sometimes, I feel very aggrieved when I read certain articles… but this is a very French attitude. They're 21 years old, and there is lot of expectation put in them.
When playing in a very closed game, at the beginning of the season, players try and pass the ball wider in order to look for solutions, and everyone whistle when the ball returns back to the keeper, it is very annoying.
The message has to come through: a bit of sympathy. They are young, they are 21 years old. If we had a team of 30 years old mercenaries, I could understand the criticism.
It's paradoxal : people heap criticism on a 21 years old for his untidy first-passes (John Boye). But in the contrary, a player like Leroy will never get attacked for his errors.
By the way, talking about this, the club's strategy to bring Leroy and Dalmat forward in order to protect the youngsters is very clever. M'Vila, in many clubs, would not have had the chance to take off.
When I talk about a new era, it is something I feel. We are about to write the finest pages in the club's history. What Pinault dreamt of in 2001, he will have it now. We have all chances to have a destiny like Lyon's in the 2000s.
Look at last Saturday's line up. Imagine it in two months: who's leaving? Douchez will stay, the defensive line is unlikely to change. Same thing for the midfield and the attack. As for M'Vila, if he listens to Laurent Blanc who prefers players who have extensive playtime in their clubs, he will decide to stay.
The club has got good chances to keep the players that compose the squad this season if the finish on the podium. To this, add the 8 million euros generated by a Champions League qualification…
"An exemplary management"
Stade Rennes is a very well structured club. Particularly thanks to Pierre Dréossi's work. He brought a lot to the club.
In regards to the salary cap, when I hear supporters angry enough to shout at Pierre Dréossi during the games because Rennes didn't keep Sow on board, I find it crazy. He gets abuse for applying a modern method of management.
There is salary cap on 100,000 euros. Full Stop. Until now, there has been an exception, which is Sylvain Wiltord. Sow wanted 140,000 euros, he didn't want to comply. It's good for him if he does well with Lille, but if Stade Rennes had accepted his conditions, what would Marveaux, Boukari, Montaño or Mangane have said?
It's a good management, with young players who are protected and very talented. And there is a person that doesn't get enough credit, Patrick Rampillon: some people may feel like Boye, Théophile Catherine, etc. are coming from nowhere. But they were trained at Stade Rennes. They've been here since several years.
Also, when I hear that we lost money with Briand, it's false. It's reasoning only based on the sale. Stade Rennes didn't buy him, he was trained at the club's academy. When you buy a player for 8 million and he leaves for free, there is indeed a management issue. But a player trained at the club who refuses to extend his contract, like Sow, it's not a problem.
How do you understand and judge the attitude of Rennes' public?
I know very well that there are 30,000 coaches and managers who would want to see such or such player – and I'm the first one to do so! But I think we are too harsh with what they are doing. With so much technical command, athletic qualities, youth, commitment and respect of the coach's orders… they deserve a bit more flexibility and consideration.
But the Rennes supporters have had such a hard time… We went through huge frustrations. We have a fussy public, but not a public of supporters as in Lens or Saint Etienne, rather a public of connoisseurs. Patrick Le Lay understood this immediately when he arrived: The Rennes fans need a spectacle. This does make sense in some way. If Rennes is relegated in Ligue 2 or in National, there will be no one left in the Stadium, while there would be lots left in Lens, for example.
To switch from an attendance of specialists and spectators to an attendance of supporters, the frustration needs to be cleared. And they are about to do just so. It also takes sone silverware, titles. If we qualify for the Champions League next year – and just imagine for one moment if we qualified for the round of 16 – the Esplanade Charles-de-Gaulle will be full in front of the giant screen!
This is the key. For people to be proud of their club, it takes titles.
The exchanges between generations are also important. It was enjoyable to see the older tell about their memories from the 1965 and 1971 Coupe de France before the 2009 final. There is a need for a link between generations. This is what football is about, even modern football.
It is very important that a flagship club exists in the capital of Brittany, a region deeply bound to its cultural roots. I think Rennes is the best equipped club, in terms of finance, sports, technic and structure to represent Brittany at a national or even international level.
When this palmares will start appearing, everything will follow and the supporters group will get more structured. Passion will come. With 50,000 students in Rennes, I'm not worried about the recruitment within the groups of supporters.
" Dréossi 's work is a good omen for what Ligue 1 seems to be about to face"
At the beginning, Pinault wanted to create a Breton club, like Bilbao. He realised it was difficult to make a competitive team with eleven Bretons. He recruited by spending a lot of money. There have been very good recruits and mistakes. Then he considered the staff needed to be strengthened. Dréossi's rigor and sense of management were adapted.
The second part, longer to set-up, less spectacular, more of a hard-work but in my opinion more in phase with the image of the Breton people, was to bet on the Academy. There was an involuntary slowdown in this policy, with a manager (Lacombe) who didn't really want to play the game.
But now, we are starting to see the results of this long term strategy: today, when a Mangane picks an injury, a Boye arrives. This is something that talks to people, more concrete than all the prizes for the Best Academy won in a few years. We are in that year that shows, that a gamble taken five years ago is about to pay.
I believe, that what Dréossi and his staff are doing is a good omen for what Ligue 1 seems to be about to face in the coming years. The TV Broadcasting rights won't reach that sort of level anymore: 450 million offered by Canal +, it's over. Why do club look out to diversify their income? Simply because they clearly understood that TV Rights won't be enough. When 70% of a budget originates in the broadcasting rights, it isn't healthy.
To bet on the Academy, five years ago, it was visionary, and it wasn't easy, especially with a shareholder such as François Pinault and his virtually unlimited financial power. It wasn't easy to make him understand the whys of this policy.
It should not be forgotten that most of the time, sports clubs (football, handball, rugby, etc.) are managed, bought, owned by local entrepreneurs. Most of the time, these people arrive at the head of a club and they have succeeded in everything they took on. Even Pinault, who is excellent in his domain, arrived with the certainty to succeed as he succeeded in the corporate world.
This is where you realise the glorious uncertainty of sport is much more than a concept. They get a slap in the face. They don't manage it. He may well bring his staff, his attorneys, his financial people, his holding… They do everything the right way and it doesn't work.
In those cases, there are two solutions: either the entrepreneur insists – as in Chelsea by spending more and more cash-, or he gives up. If Pinault had given up, it would have been truly catastrophic for Rennes.
« Chelsea is in the process of copying Stade Rennes »
Look what happen in Chelsea, he chose the first solution, he stayed, and what does he do today? He recruits from his Academy. He does it Stade Rennes way. Chelsea haven't only taken us Lollichon and Hillion [Ed.: recently returned to Nantes], they are in the process of copying Stade Rennes' policy. Only, Rennes is five years more advanced.
Add to this the fact that Platini plans to implement the financial fair-play within the next few years, France will become competitive. And within the French championship, Stade Rennes will be there.
Unless there was an accident, if Pinault decided to switch for golf – which would surprise me much –, all this is looking very good for the Stade Rennais.
Could you give us and overview of the relationship between the City of Rennes and the Stade Rennais FC, and also remind you the circumstances in which François Pinault arrived at the helm of Stade Rennes?
The contractual relationships between Stade Rennes and the City of Rennes are shown as an example. Ten years ago, Edmond Hervé and Pierrick Massiot thought and initiated this situation. We were then in an S.E.M (public-private joint venture) with public and private funding, Rennes owned 50% of the club's budget, the other half was shared by a group of personalities from the corporate environment.
This was working moderately well. Stade Rennes could not get higher because the city of Rennes struggled to give more funding, and the companies didn't want to give more funding because of the average results. We were in a circle, neither virtuous nor vicious, just a soft circle. We could have gone on in this way for a while.
At this time, Edmond Hervé was convinced that the model wasn't right. He had convictions that led his political action. He believes that local authorities are not to be involved in what is essentially a corporate logic, a private strategic and economic logic. The Rennes tax-payers could not be taken hostage of a sportive ambition and accept funding it.
Edmond Hervé couldn't bear it anymore, to have exceptional subventions of a million francs for the Stade Rennais voted every year in order to reduce the hole in the budget. This is the case were great men are needed both in the corporate or political environment. We happen to have two of the same kind in Rennes: Pinault and Hervé.
It happened simply. There was a meeting one day. Hervé told Pinault : « I take the investment, you take the operation. I renovate the Stadium, I take care of la Piverdière, and you take over at the club for real. The city should not need to give a cent to the club anymore, but we guarantee we won't interfere in the sportive policy."
That was the deal. Pinault and Hervé agreed. As a Stade Rennes fan, Pinault was interested. To him, it was a sort of return of investment in the city that saw him increase in stature. And he is convinced that Brittany should have a team that matters at the European level in football.
The City respected its commitments, renovated the Stadium and dealt with la Piverdière. The contract between both parties is rather simple, which often brings us to be pointed as an example of how to practice. We have a rental agreement for both the Stade de la Route de Lorient and La Piverdière, which is about 600,000 euros per year (this amount also includes the special tax on spectacles).
We took the commitment, with François Pinault, to give these 600,000 euros back to the Stade Rennais FC under the form of prestations (places and communication). Whatever the club gives to the city, they recoup it.
Today, among all cities that have a Ligue 1 team, I'm one of the only deputies of sports not to ask for subventions for the club.
In the discussions towards the Euro 2016, we had the chance to meet the president of the Cour des Comptes (Court of Auditors), since then deceased, Philippe Séguin. He named us as an example to follow. Naturally, all this is made easier by François Pinault's presence. He is someone serious, with an unlimited budget, a juridical and financial structuration.
Pinault has always put his quality as an entrepreneur above his quality of supporter. He didn't let his passion command him. Except, only, over the first years, when he thought he could succeed as he did in the corporate world. He had never met any resistance until then.
Nowadays, the club is perfectly managed. He draws a profit to the holding every year. And this is the best warranty of Pinault remaining at the Stade Rennais. When a company brings you a benefit of three to six million each year – even if they ask you for a punctual financial help to buy a player-, it would be foolish to stop.
« Thanks to Pinault, we are about to write the finest pages in the club's history »
At the time, we could have imagined working with a consortium of local businesses, but it would have resulted in the same issue. When several shareholders are present, there could be differences. A bit as in the maritime world, I like it when a captain is there, somebody in charge. Or we could have done as FC Twente , whose president I met: They have a group of 20 entrepreneurs and a rotation for the presidency. I'm not sure this system could be applied in France.
But, I think there was a good agreement between the city and the Pinault Printemps Redoute group. This was the ideal scenario. Since Pinault has been there, the club experience a great good progression. I think we are about to write the finest pages in Stade Rennes' history.
There is the possibility of a Rennes era, comparable to Lyon in the 2000s. This is not mere optimism, this is realism. All the ingredients are there: the youngsters are well trained, the club is well structured, the manager is competent, Dréossi manages everything very well, the staff is well organised, the Stade de la Route de Lorient is beautiful, the training centre is ideal (I thoroughly enjoy the words of newcomers… when Boukari arrives and say it is outstanding, he had never seen such a training complex… When Dalmat, who played for Inter Milan, say that the work conditions are exemplary… I'm delighted).
Talking of which, what happens when work is to be done at the stadium or at La Piverdière? Who is in charge of the works?
The city is the landlord of both la Piverdière and the Stadium. The context makes that as the landlord, we assume some of the costs. We renovated the stadium, and by the way, I find it the most beautiful in France (in an English sort of set-up, the supporters are close to the pitch… An ideal stadium to create a big atmosphere). A certain amount of building and maintenance work is incumbent to us. And sometimes, we are more in the logic of a gentlemen agreement with the club, when they are in a rush and wishing to manage the works in their own way.
For example, we will build a third category stand at la Piverdière, for the Reserve's matches. We were on a regime of exception until now. Therefore we plan to adapt this pitch to the standards, as we will do at the Stade Salengro for the Tour d'Auvergne (Ed.: Rennes' second club, playing in the French 6th tier).
These are equipment we have to provide in order to ensure the playing conditions will be satisfying. Besides, the club plans to build a secondary equipment next to it, which they will cater for (fitness room, medical room, etc…).
This is the working relationship we have with the club. We are in a good understanding with them. The relationship is extremely good between the club and the town and I'm very pleased for it. This is the partnership model who allows this: Since things are clear and sane, there is no dependence either way. We work together on meaningful projects.
The mayor and the president meet twice a year. This is the custom. As for me, I meet members of the staff regularly: Jérôme Poupard for communication questions, Olivier Tomine for administrative matters, or sometimes Pierre Dréossi or Patrick Frétel.
« We need a few more guys like Marco Simone»
What is your opinion on the arrival of new president Patrick Le Lay ?
Patrick Le Lay is an interesting person, who has an experience and a competence that are indisputable. He is a lover of Brittany, a Breton and proud to be just like Pinault. He brings his competences, including in terms of communication. When he arrived, he immediately understood the creation of a sportive spectacle was necessary (creation of the club's mascot, Erminig).
We get on very well, this was already the case with Frédéric de Saint-Sernin even though he was technically a political opponent. But we know how to get beyond this. Patrick Le Lay is someone who is quite surprising, a bit +rough-mannered+. But he is a very attaching person. I like his experience very much. He has a great experience, a great network too. Just look at the celebrities coming to the stadium.
This is also important, in terms of images. I'm quite saddened to see national journalists talk negatively or not talk at all about Stade Rennes. I'm especially thinking of Pierre Ménès, who has probably only seen one Stade Rennes game this season, against Bordeaux, and belittles the Stade Rennais even since.
And what Le Lay does, when he invites Drucker, Villeneuve, Meheut (Canal+ CEO), is anything but innocent. Also, amongst the TV journalists, there are Rennais and Bretons. It is important to have relays giving the club a good image. We need a few more guys like Marco Simone.
We are experiencing a turning point. Two years ago, no commentator or pundit would have bet on Rennes as Simone does. We need to be aware of this and take some height.
All the ingredients are there to see a great evolution of things in the coming years.
Don't miss the second and last part of this interview, to be publied on Wednesdat and mainly focused on "Stade Rennais Land", and on Rennes' decision to remove their application for the organisation of games during the 2016 Euro.