22 February 2012 | à 00h38
Battle for Right-Back
Five players have started at right back this season under Frédéric Antonetti's management. While Romain Danzé, the initial first choice, has seen his status being put in jeopardy over the last two weeks, several options appear. For one slot only.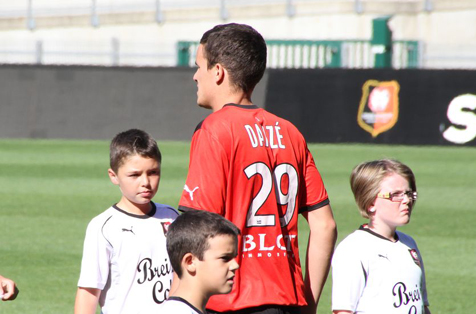 After the injuries last season and the number of games played in the first half of the season, Stade Rennes will face another issue in this beginning of 2012: the competition within a overstaffed squad.
Waiting for the attacking line to be confronted to such interrogations, most questions were focused around the right-back position during the past week. It is naturally too early to draw conclusions on the recent disgrace of Romain Danzé. This episode might be forgotten in a few weeks, if the vice-captain used it as a motivation to train harder and retrieve his position as an indisputable first choice. Whatever happens, last week unveiled a question which could be asked again in the months to come.
Five players on one flank
Indeed, and although Frédéric Antonetti doesn't want to hear about "overcrowding" when talking about the right flank of his defence, a simple look at the Rennes squad is enough to understand that solutions are multiple at this position, much more so than on the left flank, for example. This season, no less than five players have been given starts at right back: Romain Danzé, obviously, but also Kévin Théophile-Catherine, Onyekachi Apam, Dimitri Foulquier and Yassine Jebbour. There are several explanations to this phenomenon, the first one being the strange ability of Rennes' Academy to train right-backs at Ligue 1 level, all with clearly different profiles.
From the beginning of the season, this issue on the right flank should have been raised. Looking to recruit an experienced left-back, Stade Rennais was about to sign Jérémy Morel. At the last minute, however, the former Lorient man decided to join Marseille, forcing Pierre Dréossi to opt for a young player with a big potential rather than one already experienced to top flight encounters.
Chris Mavinga – despite clear progress since the beginning of the season – hasn't yet the consistency of a regular starter, the question of an internal competition between Romain Danzé and Kévin Théophile-Catherine, who could have become a centre back last season (if Morel had arrived) has finally not been asked. Having become a key-player on the left flank, the man from Saint-Brieuc is, in fact, nearly trapped by his status, even if he wanted to change sides and return to his favourite position.
Despite all, and without trying to tell what the next transfer window holds – or to prejudge how long it will take to Mavinga to break through as a regular starter – the question of a return of "KTC" to the right flank could be asked again soon. It is certain that at some point, Frédéric Antonetti will be willing to see a true left-footed player on the left side, rather than continue repositioning right-backs as he has done with Danzé and Jebbour before.
"Club Player" ?
Implicitly, in this situation, Romain Danzé's status in the first XI has to be questioned. A rather particular status because of the way the player became a regular starter, as well as because of his qualities and the attachment many of the Rennes supporters have for him.
Although he had to wait and use his versatility for a long time in order to gain consequent playing time, the man from Finistere had to wait for the departure of Rod Fanni in order to become the first choice at right back, a year and a half ago. The succession happened smoothly, without real competition while Fanni was repositioned at centre back while waiting for his transfer to Marseille. Romain Danzé, who had vowed to reach a new status, naturally took over the position.
An estimated professional and an intelligent player, he cleared hurdle after hurdle even though he wasn't the most hyped player from his generation at the Academy, led by Gourcuff, Marveaux or Sow. Now a vice-captain, he is the man with the most games played for Rennes in the current squad (175 in all competitions), nearly as many as Étienne Didot (177) or Jocelyn Gourvennec (179), and has never excluded to remain at Stade Rennais for the remained of his career if he had a chance to do it.
Despite this nearly natural ascencion and a clear attachment to his club, the Douarnenez-born has been the target of regular critics, since the beginning of his professional career. Is Romain Danzé no more than a « good club player », as he was qualified by Frédéric Antonetti recently? Beneath this slightly simplistic approach, which could or could not be seen as a true compliment, appears the question of Danze's true level. If this question was indeed at the centre of the club's reflexion, and without emitting a judgement that would always be partial, it has to be noted that the saying "Always expected as a substitute at the beginning of the season, always in the starting eleven at the end" seem to have been invented for the Rennes vice-captain.
It is worth pointing, however, that the status of Romain Danzé will soon be put to the test of an important date: the end of his contract. Tied to the Stade Rennais until June 2013, the right back is taking his time to extend his stay, and his recent disgrace might not make matters any quicker. Whatever happens, a possible contract extension will have much meaning. Difficult to imagine that a contract extension could be signed by Danzé, without clear guarantees regarding his status. On the other hand, the absence of a new deal could be the sign of a choice by the club: to bet on another player.
The pretenders
Besides Danzé, four other Rennes players have played at right back this season. Four players with very different profiles, in terms of qualities and in terms of aspirations.
The recent repositioning of Onyekachi Apam seems to be only temporarily. The Nigerian international has the vocation to replace Kader Mangane, whose departure is expected for this summer, at the heart of the defence. Until then, Frédéric Antonetti will probably try to give him as much playing time as possible as a marker of his confidence in him. Even if it means lining him up at right back.
Although he is not mentioned too often, Kévin Théophile-Catherine appears a serious candidate for the position. Very strong defensively, he is known to be a very hard worker. In October 2010, Jérôme Leroy heaped much praise on him on these terms: "In my opinions, he has got a bright future, the midfielder affirmed, Because he respects the conditions to succeed and to last. He comes way before the training sessions, he continues working as if he was still playing for the Reserves. To me, this is the way to behave. He is an example, more than me". Indisputable at left back at the moment, the player from Saint Brieuc could rightfully eye a repositioning on the right flank in the future. In this aim, he will have to show a much higher level of performance when given a chance to play at his favourite position, and will have to have a permanent replacement on the left.
The latest revelation from the Academy, Dimitri Foulquier has received a strong tribute from Frédéric Antonetti during last Friday's press conference. His attacking profile can be seducing, the young player making full use of his ability to outrun his opponents. Against Saint- Étienne however, he also showed what he lacks in terms of the defensive aspect, a weakness he admits. These lacks should prevent him from applying for a starting position in the shorter term but his potential can't be denied. It is easier now to understand while Antonetti affirmed, nearly a year ago, that he had high hopes for this youngster.
As for Yassine Jebbour, he nearly seems left behind in the middle of this competition. The French-Moroccan wasn't really convincing when his manager used him this season, and his future in such a competitive position seems uncertain. Since Foulquier has clearly overtaken him, he has gone one step below in the hierarchy. His contract extension of last summer seems way away.
Having requested a loan move since a long time without being granted one by the club, he could be satisfied next season. A loan seems an unavoidable option for him to reach a new stage in his career.
Photo : srfc.frenchwill.fr