4 January 2012 | à 23h45
It's Gambardella Cup time!
Gambardella Cup, Stade Rennais - Sablé-sur-Sarthe, Sunday 14 :30. What are the ambitions of Stade Rennes' U19s for the upcoming Gambardella Cup? How do they play? Who are the players composing Régis Le Bris's youngsters? Stade Rennais Online bring the spotlights on young players with a mission: to win the trophy, just as Jean-Luc Arribart, Jimmy Briand and Yann M'Vila before them. Nothing but success.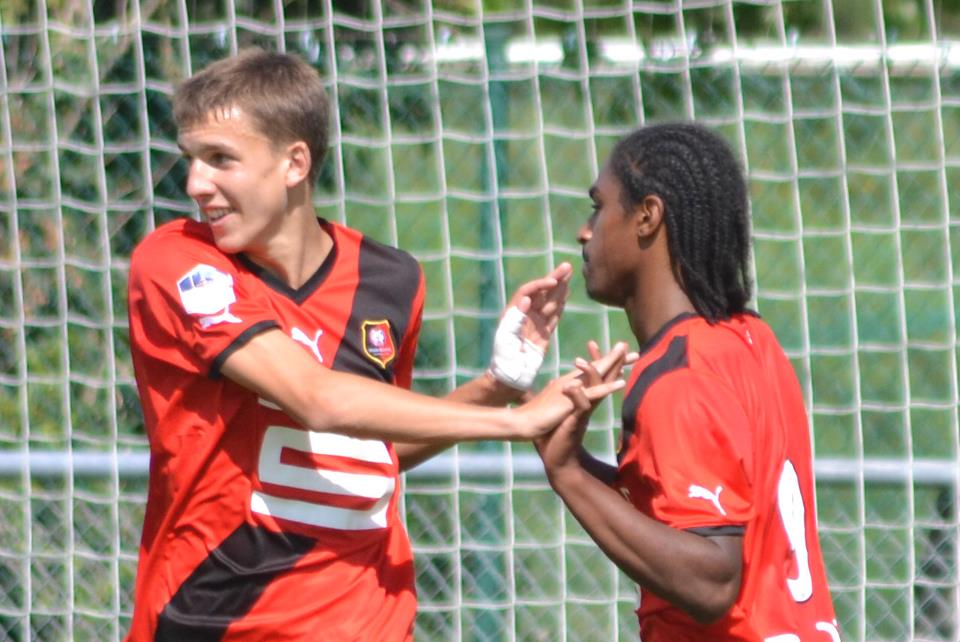 Last year, Rennes had been knocked-out without losing in Lorient, beaten in the lottery of penalties (0-0, 4-2 pen.) in the round of sixteen, after being more than a match to the Merlus. A rather positive result, considering that six players born in 1994 had been launched with the squad in 2010-2011, including savoir Zana Allée, Tiémoué Bakayoko, Anouar El Guennouni (Rennes' best scorer with two goals), Cédric Hountondji, Steven Moreira and Antoine Tchang-Tchong, without forgetting Wesley Saïd (1995) and his three appearances as a substitute. A bet on youngsters fully assumed by the Stade Rennais, since the players born in 1992 were left with Laurent Huard in the CFA, because of a reduced professional squad.
This year, the mix of the 1993 and 1994 generations is giving much hope to the Rennes management, who hope to do better than in the last three seasons (Rennes has been eliminated in the round of 16 in the last three editions) and even better if the team forms well. One thing is certain: these generations are as talented as the famous 1989-1990, who won the club's third Gambardella in 2008 after the victories of 1973 and 2003. And in the contrary to January last year, Régis Le Bris will have a wide choice of player, even though he will have to give priority to the club's Reserve, third of its CFA2 group three points behind Saint Malo. Indeed, some 1993-born players have become key-players with the Reserve, such as Doucouré, Dimitri Foulquier or Axel N'Gando, even though the latter has been left out of the first team recently following an injury. There will be therefore be much at stake in the two competitions, and Stade Rennes' target will be to be competitive on both.
Since the CFA2 season is only restarting next week-end, all the 1993 could be available for this game at home against Sablé-sur-Sarthe, before some of them return to the CFA2, depending on the U19's journey in the Gambardella and of the Reserve in the league.
Playing Style
Playing in a 4-3-3 system, Stade Rennes' U19 play with two defensive midfielders before the defense and a player linking the midfield to the attacking line, in which Adrien Hunou usually plays (possibly replaced by Thomy Beauvallet and Franck Héry, although the latter is often included in the CFA2 squad).
Behind, a traditional four-man defense with two full-backs playing an important role in the attacking play, and in front, an attacking line composed of two wingers and a striker. The team has also been seen in a 4-1-4-1 formation however, a tactic set-up (successfully) to counter the Racing Levallois (4-1), resulting in one of team's best halves of the season in terms of play. A generally attractive team, which hasn't really been rewarded for its efforts since the beginning of the season. Indeed, between injuries and bad spells, Régis Le Bris' team particularly suffers with one default: the finishing, which cost them a lot of points in this first half of the season, especially against struggling teams (defeat in Avranches and Évreux, draw in Avion).
More at ease against opponents not refusing to play, the U19 are clearly struggling against regrouped oppositions, often conceding dangerous counter-attacks when they fail to find the solution despite their usual control of the ball.
The players
Goalkeepers
Imbadillahi "Imbad" Ahamada (1994)

Goalkeeper

1.80 m, 81 kg
Imbad Ahamada (maillot noir), en train de s'échauffer avec Devis Épassy avant un match de championnat.
The goalkeeper of the U19 Reserve, currently struggling in the U19 Division d'honneur, will probably not have a chance to play a major role this year, being born a year after Devis Épassy. Imbad Ahamada, a stocky goalkeeper, will remain in the shadow of his friend before normally succeeding him next year.
Niall Burdon (1993)

Goalkeeper

1.90 m, 73 kg
Gardien Franco-irlandais, Niall Burdon, deuxième gardien de la jeune équipe rennaise en concurrence avec Imbad Ahamada.
Niall Burdon should be the second choice, in alternance with Imbad Ahamada. Indeed, he will also be needed with the club's amateur team, where he plays most of the time (seven starts), even though Vincent Dorel (1992) could be an alternative solution if needed. A tall goalkeeper, serene on his line, the U16 Irish international had profited of the dismissal of Devis Épassy against Évreux during the second game week to earn a two game stint with the U19 National team.
Devis Épassy (1993)

Goalkeeper

1.87 m, 80 kg
Devis Épassy, un gardien en devenir, premier de la hiérarchie à ce poste pour les générations 1993 et 1994.
The future of the goalkeeping position is secure with the presence of the reassuring Devis Épassy, a young French-Cameroonese keeper trained at the INF after growing through the ranks of one of the most prestigious clubs in the Ile de France: the Red Star. A calm person outside the pitch, his behaviour changes completely as soon as he puts his gloves on, giving much of his voice to direct his defence, always in a positive way. He is the number one goalkeeper for Stade Rennes' U19s.
Defenders
Maxime Bocel

Crédit photo : staderennais.com
Maxime Bocel (1994)

Right Back

1.86, 68 kg
In defence too, there is much competition in the U19 team, and Maxime Bocel is one of the victims of the situation, even though he earns playing time regularly when the situation forces Steven Moreira to play at right midfield. A rather common situation in the last weeks of 2011. The former U14 captain could start in the competition this Sunday however, depending on what squad is available to Régis Le Bris.
Daouda Gérard (1993)

Centre Back

1.78 m, 65 kg
Ancien joueur de l'Espérance La Bouëxière et de la TA Rennes, Daouda Gérard a la particularité de pouvoir jouer à tous les postes en défense.
Alternating between the U19 and the club's amateur team (DSR) since the beginning of the season, Daouda Gérard is another option for Régis Le Bris to ensure defensive solidity. As Pierre Lemonnier, with whom he was often paired during the pre-season friendlies of the Reserve, he has never seemed out of his depth. The two men composed a very complementary and solid centre-back pair, perfectly containing players used to the CFA/CFA2 level, such as former Lorient striker Jean-Marie Éveno (GSI Pontivy) and Rémi Laurent (AS Vitré), currently the best scorer in his division with twelve goals.
Cédric Hountondji (1994)

Centre Back

1.95 m, 81 kg
L'an dernier, Cédric Hountondji avait été titularisé à trois reprises en Gambardella.
Before signing for Rennes from the "Pôle Espoirs" of Châteauroux, he was closely monitored by some of the best clubs in France and abroad. A former midfielder turned into a centre-back, Cédric Hountondji has got an impressive stature for a player of his age. He is one of the rare 1994-born Stade Rennais players to have been selected with France U17, like Tiémoué Bakayoko. Unlike his team-mate, however, he wasn't included in the squad for the age category's World Cup in Mexico.
Alexis Laurent (1994)

Centre Back

1.87 m, 71 kg
Depuis le début de la saison, Alexis Laurent tente de gagner sa place de titulaire en U19.
With intensive competition at his position, it is difficult for Alexis Laurent to make himself a place at his position at the moment, since he only plays when the regulars are missing. His versatility allows him to gain some playing-time as a defensive midfielder, a position in which he can profit of well-developed physical and technical abilities. At Stade Rennes since the U14 age category, he used to be part of the France squad long-lists. In order to find his place with the U19, he will have to seize any opportunity offered to him.
Pierre Lemonnier (1993)

Centre Back

1.82 m, 76 kg
Pierre Lemonnier, un joueur sur lequel Régis Le Bris pourra compter, sportivement et dans l'état d'esprit.
If one man is profiting fully to what is happening to him, it has to be Pierre Lemonnier. Not exactly expected at this level, the Rennes born defender went through the ranks of the Academy at each level because of his hard-work and his attitude… even though he was mostly a fringe player in the youth teams in the past (without being a member of the Academy). Very hard to beat in the one-to-ones, the former player from US Bazouges-la-Pérouse managed a convincing summer pre-season with Rennes' Reserve, confirming his first appearance in the CFA at the end of last season. A hard working and keen to learn player.
Steven Moreira (1994)

Right Back

1.76 m, 67 kg
Steven Moreira a laissé dernièrement son brassard de capitaine à Kévin Beauverger. Mais il reste néanmoins un cadre de cette équipe.
Steven Moreira confirms the ability of Rennes' recruiters to find the best right backs in France. Originating from the Greater Paris area (US Torcy), he shows great qualities in counter-attack, constantly offering solutions on his right wing without neglecting his defensive work. A player to watch in the next few years, also able to play slightly higher on the pitch or at centre-back, as it was the case this season in the league, against Le Mans. With Dimitri Foulquier (1993) also in the squad, Rennes should not be too worried for the future at this particular position.
Antoine Tchang-Tchong (1994)

Left Back

1.80 m, 67 kg
Antoine Tchang-Tchong, gaucher exclusif, peut évoluer sur tout le flanc gauche de l'équipe rennaise.
Since the beginning of the season, the playing time of Antoine Tchang-Tchong has been clearly reduced, since Régis Le Bris uses him more at left-midfield since Kévin Beauverger recovered from his injury. Arrived in June 2009 from Dijon, this wing player shows clear qualities and a very interesting technique.
And also : Dimitri Foulquier (1993)
Midfielders
Tiémoué Bakayoko (1994)

Defensive/Centre midfielder

1.84 m, 72kg
Physiquement imperturbable, Tiémoué Bakayoko sera un des fers de lance des U19 du Stade Rennais.
Tiémoué Bakayoko is one of the most brilliant prospects of Stade Rennes' 1994 generation, and one of the key players in Régis Le Bris' midfield. Having returned to competition a bit later than his team-mates after taking part in the U17 World Cup with France, the Parisian had got a clear influence in the way his team plays, whether it is at ball recovery or by carrying the ball forward in his powerful runs. His physical input is also capital, a domain in which Stade Rennes struggles to compete (during the recent game in Paris for example) whenever the French-Ivorian is absent.
Thomy Beauvallet (1994)

Attacking midfielder

1.65 m, 58 kg
Gabarit modeste, Thomy Beauvallet ne joue que des bouts de match depuis le début de la saison.
With the emergence of Adrien Hunou at the same position, it is difficult to exist for Thomy Beauvallet, a technically gifted player who, like Jonathan Isambart, has got the particularity of being able to take set-pieces with both feet. Alas, this talent isn't enough to become a key-player with the U19, or at least not at this time. The young Rennes player can play as a playmaker, a centre-midfielder or even on a wing.
Alexandre Even (1994)

Defensive/Centre midfielder

1.81 m, 76 kg
L'ancien joueur de Brétigny Alexandre Even aura un rôle à jouer dans cette édition.
He is the perfect example of a slow starter! In other words, Alexandre Even needs to be in good physical shape if he wants to play an important role for his team, which he did intermittently since the beginning of the 2011-2012 season. Starting most of the time alongside Tiémoué Bakayoko, the former Brétigny midfielder has got a good ability to direct the play, thanks to a passing quality above average. If he realises the extent of his potential, he could become a leading force for Rennes' U19.
Franck Héry (1993)

Attacking Midfielder

1.85 m, 79 kg
Franck Héry, à Rennes depuis 2008, sera en balance cette année entre le groupe espoirs et la campagne en Gambardella.
It is the utility player of the group, versatile, able to play in multiple positions, whether it is on the sides, at centre-midfield or as a playmaker, which should become his position in the coming years. To fulfil his potential, Franck Héry, recruited from En Avant de Guingamp (against whom he scored his first goal in CFA2) will have to show more presence in the decisive areas, since he has the qualities. A player with a great variety of abilities, and a very interesting prospect.
Adrien Hunou (1994)

Attacking Midfielder

1.76 m, 61 kg
Adrien Hunou, l'un des rares 1994 à n'avoir pas effectué ses débuts l'an dernier en Gambardella. Ce sera chose faite cette saison.
Without any accidents, this player will probably go (very) far… In that aim, he will need to confirm his performances of the last two months, in which the former INF Clairefontaine trainee has taken a major role in the U19 squad, playing at the attacking head of a triangular midfield (he can also play at centre-midfield or cover for the right back position). He is what could be seen as a prototypal player of the former Nantes school of football, physically small, intelligent with or without the ball, often available and decisive in the last 30 metres. In constant progression and in full confidence at the moment.
Éliott Sorin (1993)

Defensive Midfielder

1.78 m, 68 kg
Éliott Sorin, ancien international -18, est le seul 1993 à avoir joué dans toutes les catégories jeunes du Stade Rennais.
After his pre-season with Laurent Huard's Reserve, Éliott Sorin had started the season on a high with the U19 against Le Mans (3-1). Also he can lack consistency, the son of former Rennes player Michel Sorin is rarely disappointing, contributing in the stability of Régis Le Bris' midfield, when the coach calls him. Generous in his work to harass the ball carrier, he is a true shadow worker. Very rarely beaten, those who attack him are certainly getting a run for their money.
And also : Abdoulaye Doucouré (1993) and Axel Ngando (1993).
Forwards
Zana Allée (1994)

Winger

1.64 m, 63 kg
Aîné des frères Allée (Ahmad son petit frère joue en U17), Zana a un talent incommensurable qu'il devra mettre au profit du collectif rennais en Gambardella.
Few players of his age are at the centre of as many conversations as Zana Allée, highly rated before his arrival in 2009, when he had notably played a friendly with Arsenal. Trained at the AS Ginglin in Saint-Brieuc, the Kurd finally decided to join the Stade Rennais, to the delight of Patrick Rampillon who had made him one of his priority targets. A true winger, mostly on the left wing, his technique and his acceleration are making him a player out of the ordinary. His playing is full of risk-taking, but the young man can show absolutely unstoppable when he gets rid of the little imperfections in his game. A great prospect, who will need to gain in regularity in order to affirm himself at the highest level.
Jordan Cuvier (1994)

Striker

1.91 m, 74 kg
Après avoir failli rejoindre Lyon, Jordan Cuvier avait décidé en janvier dernier de rejoindre Rennes.
Injuries are now a recurrent ordeal for Jordan Cuvier, left out of the pitch since a game against Laval (3-1), mid-November. Nearly thirteen weeks of unavailability, if we include another injury earlier this season (ankle). 2012 should allow him to restart on a better dynamic, even though he had had a great first quarter of 2011 with the U17s. A profile different to this of Wesley Saïd, Cuvier being rather in the category of the pivot player, bringing solutions on long balls. A player also skillfull in the finishing. Having only returned to training this week, he is already out for Sunday's game.
Anouar El Guennouni (1994)

Winger, Striker

1.77 m, 66 kg
Anouar El Guennouni, comme Jordan Cuvier, est arrivé en provenance de Jura Sud.
With the combined absences of Cuvier and Saïd, Régis Le Bris was forced to position Anouar El Guennouni at centre-forward in a three-man attack, which proved a rather convincing choice. Indeed, the player scored his three goals in this configuration, including a brace against Racing Levallois (4-1), providing another option for Rennes' attacking animation. However, with the expected return of the two strikers, Anouar El Guennouni should be returning to a position on the flank of the attacking line.
Steeve Furtado (1994)

Winger

1.74 m, 52 kg
Steeve Furtado

Crédit photo : staderennais.com
A player taking the depth, Steeve Furtado is coming behind the trio El Guennouni - Saïd - Z. Allée, when they all are available. Scouted from the INF Clairefontaine, he distinguishes himself by his impact and his vivacity. A perfect option to instil dynamism to an attacking line lacking pace. Returned for the last game of 2011 after a three week break following a thigh injury, Steeve Furtado could be in the starting eleven if some forfeits were confirmed.
Pierre-Yves Hamel (1994)

Winger

1.81 m, 62 kg
Pur Breton, Pierre-Yves Hamel est toujours en quête de son premier but cette saison.
Born in Landerneau, Pierre-Yves Hamel is an alternative solution to the starters, like Furtado. Versatile, able to play at all attacking positions, his input can't be denied, but the competition is rude in the 1994 generation, especially in his sector.
Wesley Saïd (1995)

Striker

1.71 m, 65 kg
L'un des grands espoirs du Stade Rennais, Wesley Saïd, alors qu'il n'a seulement que... 16 ans.
Except for unplanned circumstances, he should be the only 1995-born player to take part in the 2011-2012 edition of the Gambardella Cup for Rennes. What can be said about Wesley Saïd, except that Rennes has probably got its hands on its next wonderkid after the blossoming of Yann M'Vila in 2009. Always playing above his age category since he joined the Academy, nothing seems likely to stop him, and he keeps on scoring goal after goal with his club and his national team alike. On top of his finishing abilities, he doesn't hesitate covering the width of the pitch in order to use his movement qualities. Only issue, he hasn't appeared on a match sheet since three months because of hamstring injuries. Wesley Saïd won't be able to play in the first games of the competition, since he is only due to return to training in the next few days.