21 January 2011 | à 21h07
"It will be hectic for us !"
Stade Rennais adopt a careful approach before their Coupe de France game against Vaulx-en-Velin (DH). In order to qualify, on Sunday, in a hostile atmosphere, Rennes will have to "bring some pace" according to Frédéric Antonetti.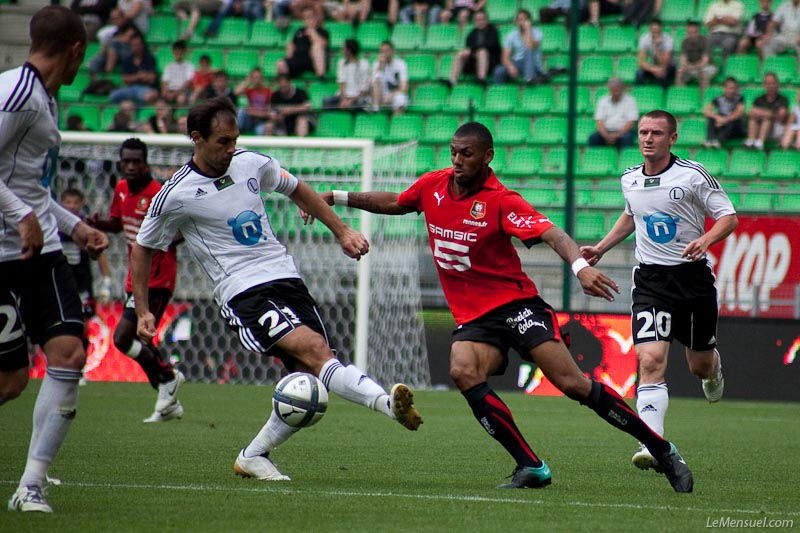 This Sunday, 14:45, Stade Rennes will face the amateurs of Vaulx-en-Velin. The DH side is the smallest team left in the competition. After scoring seven goals against Cannes (National) in the round of 64, Frédéric Antonetti's players are expected to have an easy game when facing the Vaulx team.
"In terms of level difference, it seems quite easy, but it remains a game on the road, again players who will play, as their coach said, the game of a lifetime, Romain Danzé tempers. We need to prepare this game with seriousness and professionalism, as we did against Cannes."
Souprayen : "There will be loads of people"
More than the opposition, Frédéric Antonetti and his players are dreading the atmosphere around the game. Samuel Souprayen, born in Lyon's region, played on Lyon La Duchère's pitch in the youth categories, the same pitch where the Round of 32 game is to be played. He describes it as a "nice National division stadium, 5 to 6,000 places, closed with a track around »."There will be loads of people, supporters of Vaulx -en-Velin, of Lyon La Duchère and of Lyon… There will pushing wholeheartedly behind their team (…) It will be a great atmosphere, and it will be hectic for us!", the Rennes left back warns. Romain Danzé expects a « rather hostile atmosphere, as always when a professional club travels to play amateurs. » In similar circumstances, on February 9th 2010 in Rouen, the "Rouge et Noir" had been knocked out infamously by Quévilly (CFA) in the round of 16. "We will see if we've learnt the lesson", the Douarnenez man commented.
"Special conditions"
As for Frédéric Antonetti, he fears that sort of game for the « special conditions » surrounding them and the risk of "Major blunders" on pitches sometimes "not secure". He especially remembers the catastrophe of Furiani; "I don't forget, and the Coupe de France can sometimes create that type of problems. I was at the Stadium on 5th may 1992, the date remains in my head, I saw what could happen." The Rennes coach is in no particular worry for this Sunday, but also remembers what he saw Rouen last year, "People standing on pylons","things that should not happen."
Without Dalmat, Doumbia and Montaño, the coach promises he will play with "the best team at the moment". The Rouge et Noir are back from a three days camp, in which Frédéric Antonetti considers they "worked a lot and did five solid training sessions." They will need to have recovered, and above all according to the coach, "to be serious and bring pace in every sector of the game" in order to quickly calm down hopes and the atmosphere in the Lyon stadium.