11 July 2010 | à 10h31
Victor Hugo Montaño, the Colombian Warrior
Looking for a replacement to Jimmy Briand, transferred to Lyon in June 2010, the Stade Rennais managed to hire Victor Hugo Montaño, from Montpellier, for the next four seasons. Highly talented, the Colombian forward could become one of Rennes' best offensive assets for the 2010-2011 season.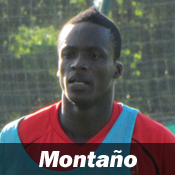 Looking for a replacement to Jimmy Briand, transferred to Lyon in June 2010, the Stade Rennais managed to hire Victor Hugo Montaño, from Montpellier, for the next four seasons. Highly talented, the Colombian forward could become one of Rennes' best offensive assets for the 2010-2011 season.
A Jump into the Unknown…
In 2003, the young Victor Hugo Montaño appeared in the international scene during the U20 World Cup, in the United Arab Emirates. Striker in the Colombian selection, he impressed in the competition as well as his country did.
Qualified in a group including England, Egypt and Japan, Montaño and his team-mates were only knocked out in semi-finals of the tournament by Spain (0-1), with a goal from Andres Iniesta. However, Colombia managed to finish on the podium, beating Javier Mascherano and Carlos Tevez' Argentina in the process (2-1)
Twice a goalscorer, the new Rennes striker was a major influence in the Cafeteros' (the coffee producers) run in the tournament. Montaño was notably decisive in the quarter-finals, when he scored the winning goal against the host, the United Arab Emirates (1-0)
Playing in Bogotá for the Club Deportivo Los Millonarios, Montaño played his first professional game aged only sixteen. At the Nemesio Camacho "El Campin" Stadium, he treated the local fans with about fifty goals in a bit more than sixty games. His statistics were soon catching the attention of many European recruiters.
Difficult beginnings...
For his first experience abroad, Montaño arrived in Istres, freshly promoted in Ligue 1, in 2004-2005. For his first game at the French highest level, the Colombian striker scored his team's only goal against Monaco (2-1).
Blocked by the competition of recognized strikers such as Florian Maurice, Moussa N'Diaye or Rafik Saïfi, Montaño managed to gather some playing time and took part in thirty three games, starting eleven, a meagre statistic sheet for a player that came with the reputation of a superstar in the making.
Struggling all season, Istres finished the season on the last place in the standing, and with his very limited contribution, Montaño could not help the team to avoid the drop, for a string of reasons: "When I arrived in Istres, I was young, only twenty. I could not speak French, I was not able to communicate with my team-mates".
The following year, he signs for Montpellier, then in Ligue 2. As in Istres, his beginnings were marked with difficulties to adapt himself, preventing him to reach his full potential. During his first three years in Montpellier, Montaño stammers his football, lacking of regularity in his performances and showing a lot of clumsiness, to score only 12 goals in 88 games.
Rolland Courbis' arrival in Montpellier was the turning point in Montaño's early career, as the new coach managed to make the Kid from Cali realise his own qualities and ability, as he explained with much sincerity on the website mhscfoot: "There was the coach Rolland Courbis, who told me things that really made me think. Thanks to him, I managed to ask myself the right questions. He really made me progress",
... Before the Fireworks
Under Courbis' management, Montaño reached another step, as did Montpellier in the same time. Regularly in the second half of Ligue 2 since several years, Montpellier came back to play the first roles in the 2008-2009 season.
With 15 goals in 35 games, the Colombian managed his best season since he arrived in France. He became one of the best strikers in Ligue 2 and his efficiency allowed his team to play a game for promotion on the last Gameweek. At the end of a very intense game against Strasbourg, Montpellier managed to snatch their ticket and come back to the first level of French football.
Five years after his first game in Ligue 1, Montaño felt it was time for him to abandon his status of future star. His season turned to be as strong as the previous, with an outstanding influence on the frontline of Montpellier's attack. Playing in a centre forward position, he soon became a threat to any Ligue 1 defence thanks to his power and pace, finishing the season as his team's best striker, with eleven goals.
These statistics were more in line with the Colombian's potential, and after four years in Montpellier, he was ready to find a new club. Courted by Rennes at the beginning of the summer transfer window, he did not hesitate to move to Brittany and sign a contract until June 2014, with the mission to succeed to Jimmy Briand, departed to Lyon.
The Route de Lorient's new favourite?
The South-American striker could soon become the Rennes supporters' new favourite. Impetuous, Montaño never stop fighting on the pitch, as the number of fouls he committed and the 46 yellow cards raised against him in six seasons in France tend to show!
Arrived in Brittany to compensate Briand's departure, Montaño knows the mission to succeed the French international will be rather hard. But, "Pepito" – his nickname – believes he can manage it thanks to his exceptional mental strength: "I know I'm strong in my head. If I don't score, I won't change the way I play for so much".
Happy to join a team like the Stade Rennais , which had attracted him since he arrived in France, Montaño is most likely to play on the right wing in Frédéric Antonetti's tactics, as soon as Asamoah Gyan returns. In the meantime, he could start the season as a centre-forward, since the Ghanaian won't be back to training before July 26th. But already, all observers are looking forward to the trio Montaño-Gyan-Marveaux, to torture the adverse defenders.
An attaching man, Montaño knows his performances in Rennes will certainly be more exposed in his country. Never selected as a full Colombian international, he will strive to arrange this with his performances in Rennes. But in that purpose, he will have to confirm his last two seasons, where his performances were marked with more regularity. This is all we can wish him for his stay in Rennes.