3 December 2010 | à 11h15
Stade Rennais - Monaco : The History
Stade Rennes host AS Monaco this Saturday, 19:00 CET, at the Stade de la Route de Lorient, as part of Ligue 1's 16th game week.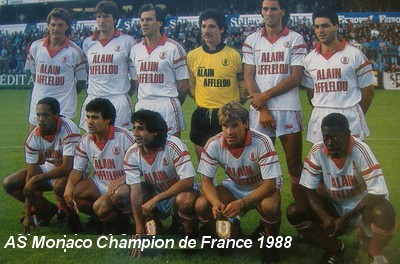 The Opposition
Founded in 1919. The Association sportive de Monaco has one of the best track records in French football. The club from Monaco only appeared as a "big gun" in the League since the 1960's, before which its silverware cabinet had remained resolutely empty.
Since, the club from the Principality has won seven champion titles (the latest in 2000), five Coupe de France, and one Coupe de la Ligue in 2003. Since a few seasons, the Prince's team failed to deliver good results in national competitions however, and the arrival of a score of well-fame players was not enough to avoid a true drop in performances. The "Rouge et Blanc" kept on showing however, that they were able to manage the worst and the better in quick succession, and they are, generally a very peculiar Ligue 1 team. In 2010, after seven years without a title, Guy Lacombe's men had nearly managed to bring the club back to the front scene, but Monaco eventually lost in the Coupe de France final, against Antoine Kombouaré's Paris Saint-Germain (1-0 after extra-time).
In Europe, Monaco has played two finals. During the 1991-1992 season, the team then coached by current Arsenal supremo Arsène Wenger, had managed a splendid run in the European cup winners' cup, only falling to Weder Bremen in the final (2-0 *, the game was played only a few days after the dramatic incidents in Furiani). Twelve years later, it was the generation of Giuly, Morientes & Rothen that managed a brilliant run through the Champion's League. Coached by Didier Deschamps, Monaco only lost to José Mourinho's Porto (0-3) in the final in Gelsenkirchen.
Coupe des coupes 1992 (final)
Monaco 0 - 2 Werder Bremen
Mai 6th, 1992 - Estádio de la Luz (Lisbon)
Attendance: 16 000 spectators
Goals : Allofs (40') and Rufer (55') for the Werder.
Monaco : Ettori - Valéry (Djorkaeff, 63'), Petit, Mendy, Sonor - Gnako, Barros, Dib, Passi - Fofana (Clément, 60'), Weah.
Brême : Rollman - Bokenfeld, Borowka, Bratseth, Wolter (Schaaf, 80'), Eilts - Votava (cap), Bode, Neubarth (Kohn, 75'), Rufer, Allofs.
Some big names in French and European football have play for the Prince's team. Dello Onnis, Manuel Amoros, Jean-Luc Ettori, Bruno Bellone, Jürgen Klinsmann, Marco Simone, Georges Weah, Thierry Henry, David Trezeguet, Ludovic Giuly are only a few of the players that gave the AS Monaco all its prestige.
Previous Meetings
The general summary is slightly to the advantage of the Principality's team, since AS Monaco came to win 14 times at the Stade de la Route de Lorient, against 13 success for the "Rouge et Noir".
In 2008-2009, Stade Rennes had completed a third win in succession in Ligue 1, beating the team from "Le Rocher"by two goals to one. At the time, the Breton club profited of the victory to enter the leading trio for the first time in the season. On that evening, Guy Lacombe's men had taken the edge against a very limited Monaco team, mainly thanks to a very efficient attacking line composed of Briand, Sow and Ekoko.
Last year, after narrowly beating Guy Lacombe's men (1-0), Stade Rennes were smiling again after a very negative string of four defeats. A free-kick by Marveaux was tipped by the feet of Briand and Bocanegra, and offered the victory to the "Rouge et Noir". This victory came to reward a clear domination by Rennes against a lacklustre Monaco. It also allowed Frédéric Antonetti's squad to return to some serenity.
2009/2010 Season : Douchez - Danzé, Fanni, Hansson, Bocanegra - M'Vila, Lemoine, Tettey – Leroy (Doumbia 90'+1), Briand, Marveaux (Bangoura 85').
Summary of Stade Rennais - Monaco in L1 : 36 games, 13 Rennes victories, 9 draws and 14 Monaco victories. 44 goals to Rennes, 47 to Monaco.
Last Rennes goal scorer : Carlos Bocanegra (March 6th, 2010)
Last ten Stade Rennais - Monaco in L1
2009/10 (L1) : Rennes wins 1-0 (Bocanegra)

2008/09 (L1) : Rennes wins 2-1 (Sow & Briand / Cufré pen.)

2007/08 (L1) : Monaco wins 1-0 (Piquionne)

2006/07 (L1) : Draw 1-1 (Briand / Koller)

2005/06 (L1) : Monaco wins 3-1 (Mvuemba / Vieri (2) & Veigneau)

2004/05 (L1) : Draw 0-0

2003/04 (L1) : Rennes wins 1-0 (Barbosa)

2002/03 (L1) : Draw 0-0

2001/02 (D1) : Rennes wins 3-0 (Monterrubio (3))

2000/01 (D1) : Draw 1-1 (César / P. Farnerud)
* ASM, 1977-1978.
Sources :

Stade Rennais Online Archives
Photos :

forum footnostalgie