10 February 2011 | à 18h48
Flashback : Sylvester Takac
Before the game between Stade Rennes and Nice, as part of the 23rd Ligue 1 game week, Stade Rennais Online offer you a portrait of a personality common to both clubs, Sylvester Takac.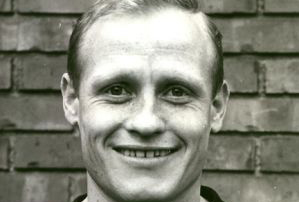 After a rather mixed 1965-1966 season, despite an encouraging sixth place in the League's final stading, the Stade Rennais UC started a new season with the ambition of improving their result from the previous season. Unfortunately, Jean Prouff's players were quickly piling up poor results and reached the half-season at a not so glorious 17th position in Division 1. This is when president Louis Girard decided to recruit a promising striker from Yugoslavia, Sylvester Takac. The man born in Djurdevo, in the former Yugoslavia (now in Serbia), arrived in the Breton capital on December 27th, 1966, alongside another player, Eliseu Manuel de Mendonça, hired by the club at the end of a successful trial. Of Ukrainian descent, Takac, then aged 26 arrived in Rennes shortly after he won a Yugoslavia Champion title with his training club in Novi-Sad (1966), to which must be added an Olympic Champion title won 6 years later (1960) with the Yugoslavia of Milan Galić (a future player of Stade de Reims) and Bora Kostić (the icon of Red Star Belgrade).
Arrived from Vojvodina Novi-Sad, Sylvester Takac was an additional asset to Rennes's attacking line. He also became the first provider of attacking balls for Daniel Rodighiero and Giovanni Pellegrini. Takac (pronounce "Takash") was also a target of Olympique de Marseille, who dreamt of partnering him with the country's best striker, Yugoslavian forward Josip Skoblar (44 goals during the 1970-1971 season, European record). A very good purchase for the club from the Breton Capital, indeed. He started with the "Rouge et Noir" on January 8th, 1967, during a heavy defeat in Sedan (4-0). An incredibly ingenious playmaker, he soon revealed himself as a very gifted technician and offered himself the thrills of a brace against Lyon (4-0) in the 34th match day. Stade Rennes eventually finished the season at a disappointing 11th position. On a personal point of view, Takac scored 9 goals in only 18 games in the league, finishing the season as the club's third best goal scorer behind Daniel Rodighiero (20 goals) and Giovanni Pellegrini (11). In the Coupe de France, a competition favoured by the Rennes supporters since the triumph of 1965, he scored another five goals. Despite another brace against FC Sochaux in the semi-final (during the second replay, at Parc des Princes, Paris), he couldn't prevent the defeat of his team, by 4 goals to 3 (The third goal for the "Rouge et Noir was scored by Jean-Pierre Darchen). The following year, the Stade Rennais UC lived a very average season and finished 14th position in Division 1. Takac however, found the net no less than 15 times in 35 league games (the club's top goal scorer) and managed a great season. Small in size but big in talent, Sylvester Takac had truly become the team's metronome. His tricks were a delight to the Route de Lorient supporters. Takac had no equal to feed his partners with superb deliveries. His influence on the game and on his team-mates was then enormous. And whenever the Yugoslavian was having a bad day, the rest of the team did too.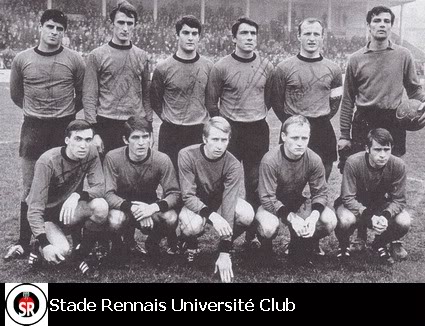 *Stade Rennais UC, season 1967-1968
His third season in Brittany wouldn't be as good, with an overall performance below what he had shown during the first to. He finished the season as the club's best scorer once again however, with 13 goals (and another one in the Coupe de France), but failed to show as consistent as he had been. On top of that, Rennes was never able to get in the good rhythm and ended the league season in 11th position. Takac however, scored a magnificent quadruple against Nice (4-2) on May 18th, 1969. Despite Marseille trying hard to bring him to the Canebière, Sylvester Takac agreed with the Standard de Liège and signed a major contract in Belgium. But a few weeks later, still waiting from new from the Belgian club, he assumed the deal had fallen through and accepted Olympique de Marseille's second proposal. The Standard management were livid, but the juridical commission of the league stated on the case and gave reason to Olympique Marseille, before suspending the Yugoslavian player for three months. The Standard appealed the decision, as the Blegian club had already paid 15 million francs (about 2,3 million euros) to SRFC. Finally, since the French Football Federation had not transmitted a document of cancellation of the contract to the Belgian Union in time… Sylvester Takac was eventually amnestied and left with no choice but to move to Liège. The Yugoslavian international had played three seasons with the Stade Rennais (1966-1969). His overall statistics remain very good, since he scored 37 goals in 85 league games, to which must be added another 6 goals in nine Coupe de France matches.
For his first year in Belgium (1969-1970), the Yugoslavian striker added a new line to his palmarès. Standard de Liège took the edge on FC Bruges and La Gantoise to win the fifth Belgium Champion title of their history. A story to be repeated the following season, with Sylvester Takac instrumental in this phenomenal success, well helped by the three-times Golden Shoe winner Wilfried Van Moer. In 1972, Takac was at the peak of his career. He finished the season as his club's top goal scorer with 15 goals (The Standard remained on the podium by finishing 3rd in the Belgian Championship) but also scored 5 goals in the Champion's Cup, finishing the competition as the joint goal scorer alongside Johan Cruyff (Ajax Amsterdam), Antal Dunai (Újpest) and Lou Macari (Celtic Glasgow). In five seasons in Belgium, he would play 150 games with Standard de Liege and score 58 goals, before starting a new career as a manager in the mid 70's. He first managed in Germany, where he finished vice-champion and won the DFB-Pokal with FC Cologne as assistant manager. He then took over at RFC Liège and somehow returned to France where he would successively coach the FC Sochaux, the Racing Club de Paris and the OGC Nice with which he won the 1997 Coupe de France (the last ever final played at the Parc des Princes), in a final decided in the penalty shootouts against Francis Smerecki's En Avant de Guingamp. Recently, he took over at Moroccan clubs Raja Casablanca, and CS Sfaxen between 2001 and 2002.
Career as a player

1955 – 1966 : Vojvodina Novi-Sad (Yugoslavia)
1966 – 1969 : Stade Rennais
1969 – 1974 : Standard de Liège (Belgium)
Career as a Manager

1979 – 1982 : RFC Liège (Belgium)
_1983 – 1984 : FC Cologne (Germany)
1984 – 1985 : FC Sochaux (France)
1986 : RC Paris (France)
1987 – 1994 : FC Sochaux (France)
1997 – 1998 : OGC Nice (France)
2001 : Raja Casablanca (Morocco)
2001 – 2002 : Club Sportif Sfaxien (Tunisia)
Sources :

Wikipedia

« Le Stade rennais, fleuron du football breton » de Claude Loire, Ed. Apogée.
Photo :
so foot.com

forum footnostalgie

Standard de Liège's official website