6 December 2011 | à 13h44
Discipline: Boye suspended against Brest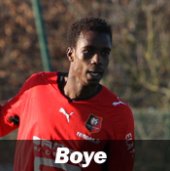 Dismissed in Nice on Saturday evening, John Boye will serve an automatic suspension against Brest next week-end. The Ghanaian could also receive a further ban on Thursday evening, if the commission of discipline decides so.
Suspended against Nice, Jean-Armel Kana-Biyik will be returning against the club from Finistere, and could start the game alongside Georges Mandjeck, or Kévin Théophile-Catherine if Frédéric Antonetti to use the player from Saint Brieuc at centre-back again.
This is the first red card received by John Boye since he plays with Rennes' professional team. A sanction he had received several times in CFA with the Reserve over the last few years.