6 December 2011 | à 23h08
Injuries: Mangane to return soon ?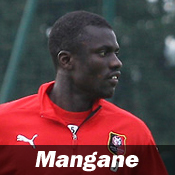 As the professional squad were going through two training sessions this Tuesday, in order to start and prepare the game at home against Brest, observers at la Piverdière could notice the return of Kader Mangane.
The Rennes captain, who has been suffering with his ankle since months and had to restrain from playing since early November to fully recover, has indeed return to the pitches at the training centre. The Senegalese defender went for a run and felt "no pain" according to a press release published by the club.
Two weeks ago, after the international break, Mangane had already tried to return to training but he was still suffering with his ankle. After visiting a specialist in Paris a few days later, it had been decided that surgery wasn't necessary for him to recover.
His presence this Tuesday is enough to hope he could return to competitive football before the winter break… and before probably leaving for the African Cup of Nations.